10 November 2014
Growing old (dis)gracefully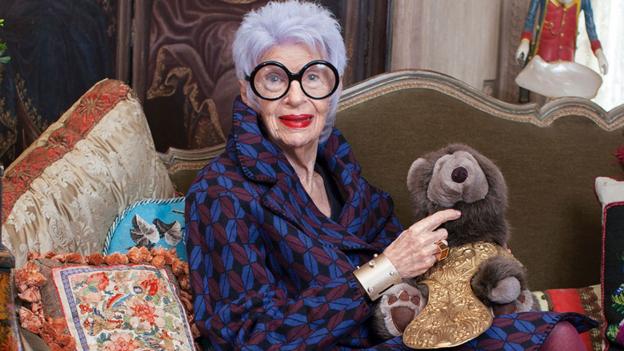 Iris Apfel (& Other Stories/Advanced Style/Ari Seth Cohen)
Older women are more prominent in the fashion world than ever before. But how do you age with style? Lindsay Baker takes a look.
"Old age ain't no place for sissies," said Bette Davies – a phrase that rings true for more and more of us as the population lives longer. And older women – once largely invisible and overlooked in fashion –- have become increasingly central to the style zeitgeist, with fashion directors such as Grace Coddington and Carine Roitfeld ever more influential. And mature women are being cast more frequently as models and brand ambassadors too. The elegant, silver-haired 86-year-old British model Daphne Selfe is in constant demand, and the flamboyant New Yorker Iris Apfel – also an interior designer, whose motto is "more is more and less is a bore" – was recently chosen as the face of hip fashion label & Other Stories.
Its campaign was shot in the 93-year-old model's home by Ari Seth Cohen, already known for his hugely successful street-style blog
Advanced Style
, in which he documents stylish New Yorkers aged from 60 to 100. His recent documentary film, also called
Advanced Style
, tells the story behind the blog. "I always love working with older people because of their ability to tell a story with a look," the 33-year-old photographer tells BBC Culture. "Women like Iris Apfel promote personality and personal expression rather than a youthful idea of perfection and beauty."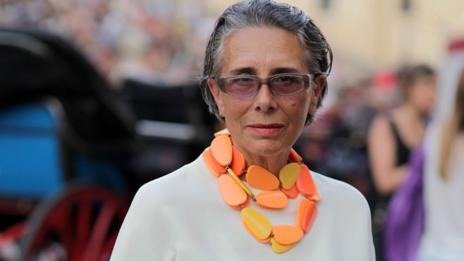 Inspiration came early for Cohen, whose grandmothers were his "best friends" when he was growing up. "They were my role models," he says. And now the marketing clout of the silver-haired style maven has become apparent, it seems. "Brands are definitely starting to wake up to the fact that there is an entire demographic of intelligent and experienced older shoppers that they have been ignoring for so many years," says Cohen. "Bringing visibility to a new image of ageing…. will hopefully help change our attitudes towards growing older."
Unique chic
What comes across in Cohen's subjects is their confidence and strength of character. "Style is all about the attitude that comes along with dressing. Many of the women I photograph have become more confident with age. They know their bodies better, aren't afraid of expressing themselves, and no longer care about what other people think." So does ageing stylishly transcend fashion? "I think style can definitely be an act of creativity. I look at style as a form of vitality, but there are many other ways to age stylishly that have nothing to do with clothing. Style is how we live our lives and approach each day."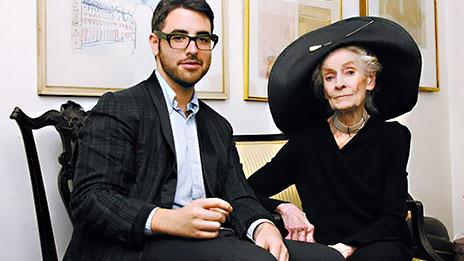 It's perhaps this emphasis on individualism that has made Advanced Style so popular with younger people. As Cohen puts it: "[Iris] comes from a time before 'fast fashion', where you wouldn't come across hundreds of people wearing the same thing. It's interesting because personal style has really become a commodity. Many of the women I photograph say that everyone is trying to look different these days, yet they all end up looking the same. I agree with Iris's pro-individual sense of dressing and I believe that any creative act can be a form of personal expression." Or, as Iris herself has said: "When you don't dress like everybody else you don't have to think like everybody else."
Older, wiser, happier
British writer India Knight disagrees. "Lovely line, but I'm not sure it's true. It's nice to be creative in the way you dress, but it doesn't mean that more soberly dressed people are incapable of creativity. Mrs Apfel is a fashion icon and quite rightly speaks like one. Ordinary women are perfectly capable of original thought in a pair of old jeans and their dog-walking jersey."
In her new book
In Your Prime: Older, Wiser, Happier
, the 48-year-old author and newspaper columnist argues that ripeness is all, and offers brisk, funny advice on the joys and pitfalls of middle age and beyond. She advises against looking "whacky" and "ageing disgracefully", and roundly condemns the 1961 poem Warning by Jenny Joseph as the worst possible kind of sartorial advice to follow. (The poem opens with the lines 'When I am an old woman I shall wear purple / With a red hat which doesn't go and doesn't suit me').
Coco Chanel famously said: "Nothing makes a woman look so old as desperately trying to look young." India Knight agrees. In her book she writes about the "mutton" effect (from the phrase 'mutton dressed as lamb'). How would she define mutton? "It's trying too hard," she tells BBC Culture. "I'm not mad keen on the idea of a 55-year-old sharing a wardrobe with her teenage daughter." Equally, though, she is averse to the more ascetic approach, or what she calls the 'Hampstead Lady' look (a reference to the north London neighbourhood favoured by the liberal intelligentsia). "Grey bob, geometric, usually Japanese, clothes," she explains. "For some reason people who wear it feel this look somehow has intellectual rigour. I personally find it quite comical."
So what can the more mature woman wear, in her view? "Wear whatever you feel happy in. Note, this doesn't mean whatever you feel most comfortable in. If that worked, we'd all be running about in onesies. I have a lot of love for the onesie but, time and a place. Instead, wear clothes that make you feel uplifted. There's nothing more depressing than looking down at yourself and thinking 'ugh'." So does the author think it's less important to follow fashion as you get older? "Yes and no. It's important to do what makes you happy. If you love fashion, great. If you think it's a baffling tyranny, you're entirely at liberty to ignore it entirely. The good thing about getting older is that you're freer of silly anxieties about all of this stuff." And nor are older women 'invisible' as is sometimes claimed. "We are perfectly visible to people our own age, both male and female."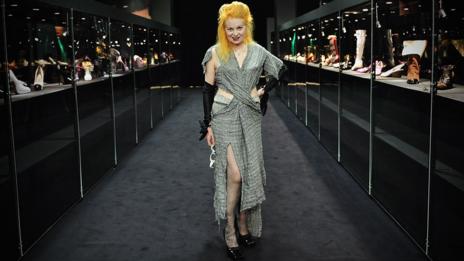 Despite her firm views on what is and isn't appropriate, the author agrees that times have changed. In western society, 'respectability' is no longer such an overriding concern for older women. And though mature women dressing up for fun may occasionally be ridiculed, on the whole they are viewed affectionately – in the UK the likes of actress Helena Bonham Carter and designer Vivienne Westwood have become close to national treasures with their determinedly out-there looks. "We are much more mutable," says Ms Knight. "We can put on a personality when we put on an outfit, in a playful way." Something the ladies of Advanced Style know all about. When you get to the age of 94, as one of them puts it in the documentary film, "Everyday living is a party."